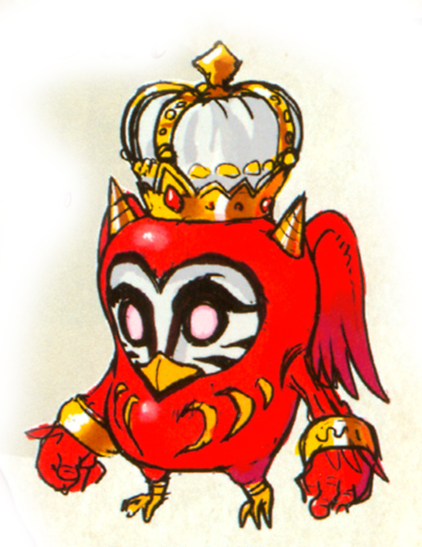 The little birdlike creature hops out of the ground and looks around frantically before it takes off running.
Lucky Doll Lucky Doll Rogue 1 CR: 1/2; EXP: 200 CN Tiny Humanoid (Construct, Demon) Init + 5 Senses Perception + 5, [darvision, Tremorsense 60 feet] Defense
AC 17, touch 15, flat-footed 12 (10 +5 Dex, +2 Size) hp 6 (1d8-2) Fort + 1 Ref + 10 Will + 4 Defensive Abilities Lucky Aura Offense
Speed 40 ft /Burrow 30 ft
Ranged Shortbow +7 (1d3 x3) Special Attacks Sneak Attack 1d6
Statistics
Str 2 Dex 21 Con 6 Int 18 Wis 13 Cha 16 Base Atk + 0; CMB -6; CMD 9 Feats Superlucky Skills Escape Artist +17, Stealth +17, Disable Device +9, Perception +5, Sense Motive +5, Sleight of hand +9, Knowledge Dungeoneering +8, Acrobatics +9, Use Magic Device +9, Intimidate +7, Disguise +7 Languages English or japanese Gear Shortbow, NPC Gear
Evility: Thief Skills
Can use the Thief hand to it's maximum potential.
Super Lucky (Su)
Lucky dolls grant a +2 bonus to the saving throws of themselves and allies within 30 feet.
Sonic Phobia
Any time a Lucky doll is within 30 feet of sonic damage, it must make a will save DC:10+sonic damage, or be panicked for 1d6 rounds.
Lucky dolls often live in secluded underground homes. They are terrified easily and sometimes other Lucky Dolls even terrify them. They were said to have been created by spell casters long ago but no one remembers how to do so.
Lucky Dolls as characters Edit
-6 STR, -4 Con, +6 DEX, +4 INT, +4 CHA.
Humanoid (Construct, Demon)
Tiny As a Tiny creature you gain a +2 bonus to Armor Class, +2 bonus on attack rolls, +8 bonus on Stealth checks, -2 penalty on CMB and CMD.
Lucky Doll base land speed is 40 feet
Darkvision
+8 racial bonus to escape artist checks.
Automatic Languages: English and Japanese. Bonus Languages: Any (Unless specifically noted)
Lucky Dolls have tremorsense out to 60 feet.
Lucky Dolls can burrow into the ground at the speed of 30 feet per round, they instantly cover the opening they made.
Allies within 30 feet of a lucky doll gains a +2 to all saving throws, including the lucky doll.
Any time a Lucky doll is within 30 feet of sonic damage, it must make a will save DC:10+sonic damage, or be panicked for 1d6 rounds.
Proficient with drum, Hammer, Balloon, and pie.
Level Adjustment: +1